Well it's been a little while since we brought you a little bit of music news, and it seems a lot has happened since then. Summer is now fully under way with Ibiza being brought to life once again with the majority of clubs hosting their opening party's. Here's a sneak preview into what will be going on on the white isle over the next season. Next week I'll be talking about what's going on at Eden, Ibiza Rocks, Pacha and everything else inbetween.
This year looks to be one of stark contrast to years gone by however, with the departure of Manumission from the island and of course DC10 having had a 300,000 EUR fine and a year closure imposed on them by authorities for its breach of crowd numbers last summer.This has made my abandoned trip to the island (due to lack of cash monies) slightly easier to swallow, but what I will be missing is still bad enough.
Many of the clubs have taken on new residencies in what looks to be one of the best season's to date.
Es Parasia will be invaded on thursdays by Electric Vendetta with a focus on Tech House, Electro and Fidget... summer guests are likely to include Bart B More, Micky Slim, Bass Weazels, Stupid Fresh, Kelevra and Myles Dyson among others.
The inclusion of Prang at Es Paradis however is one that will surely be staking a claim to be the biggest Sunday night of the island, with a fine focus on Drum n Bass and Dubstep... The first night kicked off on Sunday just passed with a 2 hour extended set from Radio 1's Grooverider who will be alternating weekly with his partner in crime Fabio. Future headliners confirmed so far for the 13 week extravaganza include Example, LD, Shy FX and Blame.
There's also the charasmatic Water Party every Wednesday and Saturday which consistantly proves to be one of the best nights out on the whole island.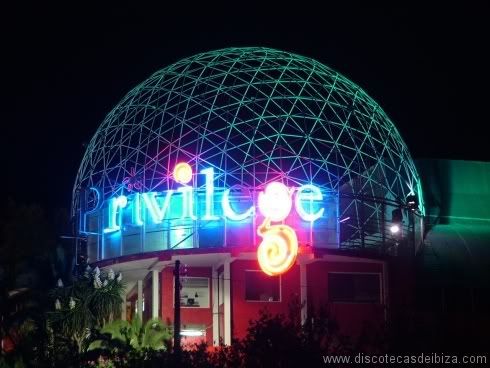 Privilege will continue to pack itself out by keeping hold of God on the decks himself, Tiesto every Monday for a weekly residency running from 8th June, until September 21st with special guests. If you're looking for an all round party extravanganza look no further than Fridays with SuperMartXe, which transforms Privilege into a 100,000w lighting show, with I can only scarcely imagine.
Amnesia will be hosting Sven Väth's Cocoon on Mondays, which will be celebrating its 10th year in clubland, with a special season of craziness that only they know how. The opening party kicks things off on June 15th with performances from Sven himself and Ricardo Villalobos. Guests this summer include Richie Hawtin, Dubfire, Loco Dice, Luciano, Radioslave, Josh Wink, Raresh, DJ Sneak and an exclusive Live performance from Joris Voorn.
Armind Van Buuren's Armada and Release Yourself will be taking over Tuesday nights, with guests Markus Shultz, Laidback Luke and Remy confirmed to date.
However, its Cream that will surely steal the show with regular performances from Ferry Corsten, Sander Van Doorn, Sasha and Paul Van Dyk and inviting Annie Mac's Presents Tour on the terrace one a month to showcase the freshest talent in Electro, Fidget and B More with performances from Diplo, Crookers, Simian Mobile Disco, Boy 8 Bit and Annie Mac herself to name a few.
Then there is of course Space, one of the most popular clubs on the island, which is famed for its amazing opening and closing parties, which I aim to go to at the end of this season. Why not? Fly over for one day and go to the closing party for shits... has to be done!
The pick of the bunch is obviously We Love Sundays, which will be hosting a new residency in the Red Box with Chew The Fat! and Foamo.
The opening party will include a Live performance from Joris Voorn who will be joined by Claude von Stroke, Danny Howells and residents Steve Lawler and Carl Craig. Chew The Fat! will be present with resident Foamo and sets from Jem Haynes and Andy Caroll.
Over the 17 week season which culminates in the ultimate closing party, expect performances from the likes of Busy P, DJ Mehdi, Felix Da Housecat, Riton, 2 Many DJs, Deep Josh, James Zabiela, Lay & Bushwacka, Crookers, Jesse Rose, Hercules & Love Affair, Cagedbaby, Kissy Sell Out, Yousef, Alfredo, Simian Mobile Disco, David Guetta, Aeroplane, Zombie Nation, Andy C, Brodinski and Rob Da Bank. As well as an exclusive DJ set from The Chemical Brothers and a full live show performance from Grace Jones.
If you're heading off to Ibiza in the next few days or weeks of even if you've got a trip planned for later in the summer, make sure you remember five very important things, your passport, your money, your swimsuit, your sunblock and those all important raving shades. Have a top one!